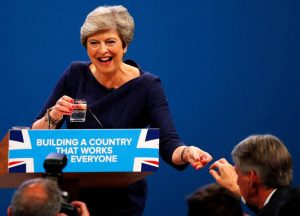 Almost since the moment when she became Prime Minister it has been tempting to mock Theresa May. From her 2016 conference speech, when she seemed to have abandoned her previous support for EU membership and managed the meaningless "Brexit means Brexit", through vacuous comments on the "will of the people", to her performances as the "Strong and stable" "Maybot" in the 2017 General Election.
But is this fair? Her disastrous speech speech to the 2017 Conservative Party Conference begins to flag up another side. As it stands, she may well go down in history as the most unfortunate Prime Minister in a very long time. In the long view of history, she may get credit for courage in an impossible situation, and come to be seen as one of the high-profile victims of Brexit.
That conference speech said more than its words. Letters falling off a sign, someone playing a prank, and a nasty cough could be seen as bad luck. But things are rarely as simple as that, and it can be worth asking what is happening unconsciously in the seemingly-accidental.