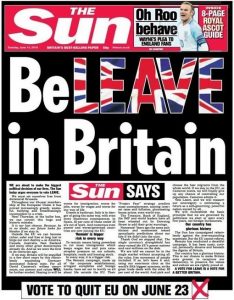 From the Leave side, Aaron Banks has spoken of "true Brexit" and Nigel Farrage accused Theresa May of "not believing in Brexit" after the General Election. Jacob Rees Mogg has accused other members of the parlimentary committee on Exciting the European Union of being "high priests of Remain". From the Remain side Rafael Behr has written of the dangers of following the "scriptures of Rees-moggery", and it's not unusual to hear support for Brexit dismissed as "religious" when it seems to ignore economic reality.
There are a range of attitudes among Brexit-supporters I've spoken with, but the more strident support for Brexit is coming across as having a religious quality.
Some will want to bracket together religion and support for Brexit as irrational, and leave the argument there, but this short-changes both religion and what the support for Brexit. This matters because winning a "People's Vote" on the terms of Brexit needs some who voted Leave in 2016 to vote the other way, and avoiding the damage that would come from alienating a substantial minority needs a large number of people to change sides. For people to switch sides means they need to feel that their concerns have been heard.