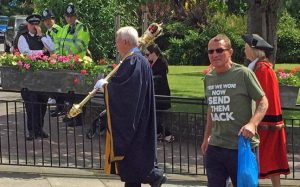 In a few hours we gathered just over 250 signatures on a not-that-busy street. Some were delighted to sign. Some were relieved that we were not taking the opposite position. Some said their businesses would struggle without people from other parts of the EU.
More worrying was the small minority who disagreed, loudly wanting foreigners to "go home". A prize for confusion goes to the person who said that, and then added that she wanted to retire to France.
Then came an apparently-xenophobic attack on two Poles in Harlow and Theresa May's assertion that curbing immigration will take priority over access to the single market in Brexit talks. She must know this is unrealistic: freedom of movement is one of the pillars of the single market and Switzerland's access to EU programmes was curtailed after they sought to restrict migration.