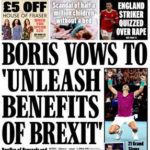 The widespread anger at lockdown-breaking parties at Downing St in May 2020 is justified. But it is also a surprise that anyone is surprised. Johnson's unsuitability for high office has been obvious (at least) since his time as Foreign Secretary. John Major has described Brexit as "the worst foreign policy mistake of my lifetime": partygate, serious though it is, pales in comparison beside that.
As "Partygate" comes to its (first) climax there's the announcment of a "Brexit freedom bill" (to unwind EU-derived law), and the front page of the Daily Express says "Boris vows to 'unleash the benefits of Brexit'".
I can't be the only person who years echoes in that of "unleash the dogs of war" — a corruption of "Cry 'Havoc!', and let slip the dogs of war" in Shakespear's Julius Caesar. Not a good omen.
Partygate anger
Anger is a pretty raw emotion. I suspect that what is being expressed around "partygate" includes pent-up frustrations over Covid, worry over the economic situation, anxiety over empty supermarket shelves, and fears over the direction of Brexit.
Continue reading ""Partygate" and authoritarianism: a bigger problem than the breaking of lockdown rules"