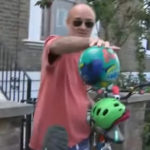 I want to describe his trip to Durham during the lockdown as somewhere between "grossly irresponsible" and "utterly foolish". But it is a little too easy to write him off.
This is the man who took a pile of grievances about things that had little to do with the European Union and coalesced them into a vote for Brexit — even though this will make life worse for most of those who voted for it.
This is the man who (apparently) took last year's parliamentary stalement and Boris Johnson's illegal prorogation of Parliament and enabled the Tories to win a handsome majority — even though the tiny increase in the Conservative vote makes it look more like a vote against a Corbyn government than support for a Johnson one.
His Durham trip has been roundly condemned, but he's survived. I fear that, once again, he has done something I think is foolish, but which might just work to his advantage.
Continue reading "Did Dominic Cummings pull a fast one in his lockdown-bending trip to Durham?"