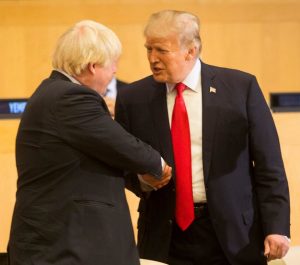 The news that the Police were called to the flat Boris Johnson shares with Carrie Symonds is (rightly) raising eyebrows.
At the time of writing this post I don't know whether the Police will bring charges against Johnson, so we don't know whether this should be heard as actual domestic violence, or simply a nasty row.
What's striking is the contrast between this and the anger generated by the news of Mark Field MP "grabbing a woman by the throat" — actually a climate change protester at dinner where Philip Hammond was speaking. He's been subject to censure and suspended as a minister, pending investigation. The implication is that it's considered unacceptable for a junior minister to manhandle a woman who (rightly or wrongly) he perceived to be a threat, but acceptable for someone who is the front-runner to become Prime Minister to act towards his partner in a way that leads to the police being called.
My mind jumps from this to the host of allegations of sexual mis-conduct made against Donald Trump. Continue reading "Police called to the home of Boris Johnson: a Trump moment?"