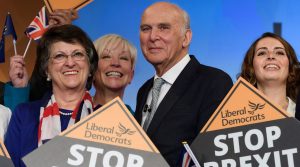 After the European Parliament elections
The actual results were exciting, with pro-Remain parties getting more votes than pro-Brexit ones and many people voting Liberal Democrat who would not have done so a year ago.
Polling from Lord Ashcroft since then suggests that many of these voters would follow this up by voting Liberal Democrat in a UK General Election.
The campaigner in me instinctively thinks this is the time to be out and visible, particularly in places where people don't hear from us very often. It's one thing for people to vote Liberal Democrat in exceptional circumstances and quite another if it's followed up by enough contact to mean this is not a flash in the pan. On top of the usual task helping newly-elected councillors to dig in, this is a golden opportunity to recruit members and deliverers.
But things are not so simple.
Continue reading "Building on the European Election results"