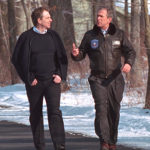 At the time, I didn't support the invasion of Iraq. Saddam Hussein was clearly unsavoury but the evidence made public for his having weapons of mass destruction that posed a real threat to Europe was weak.
My sense at the time was that things would have looked very different if Iraq's neighbours had been appealing for help.
The best account of the messiness of the situation that I saw lay in some deft editing by John Wilkins of The Tablet. My memory is that he published five articles, in successive issues. Two were from supporters of invasion and two from opponents. His editorial masterstroke was that the fifth article written by an Iraqi Kurd arguing that Saddam Hussein's killing Iraqi Kurds twenty years earlier had put a duty on the international community to act (and Hussein was eventually executed for the killing of 148 Iraqi Kurds in 1982). The fact that the international community had waited for two decades before acting put a very different light on the "urgent" invasion.
Things would have looked very different if the West had waited and trusted the Iraqi people to change their own government rather than "bring" then democracy. In this sense I thought and think the invasion was wrong.
But, if the US had decided to invade anyway, might Blair have been right to join in?
Continue reading "Not disregarding Tony Blair because of Iraq"