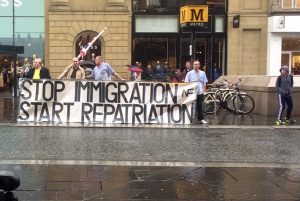 The Guardian piece put a persuasive case for seeing bigotry at the heart of the support for Brexit. It is persuasive but not totally compelling, in that I know people who voted Leave out of a sense of alienation or wanting to waive two fingers at politicians, and others who voted Leave because life has been very tough and they felt that "something has to change" — without thinking too closely of the possibility of things changing for the worse.
And the Daily Mail ran one story appealing for volunteers to help in the NHS, and another proudly proclaiming that 11,000 people had come forward.
What's intriguing about the Daily Mail story is that the claim has been that "immigrants are taking our jobs". Though the reality is that immigrants also boost the economy and therefore create jobs, this has been a real fear. But Brexit is leading to staff shortages in the NHS, and the Daily Mail is proud of people volunteering to plug the gap, then something else is going on. Volunteers are not paid. The Daily Mail initiative has turned "immigrants taking our jobs", which sounds like an economic argument, into "we should be prepared to work for nothing", as a price (apparently) gladly-paid for getting rid of foreigners.