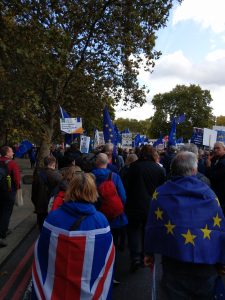 A friend commented that she was struck by the sense of sadness. There was also fear, but much less of the carnival-like atmosphere of previous marches. One of the hallmarks of emotions in groups is that, if they affecting the whole group, they are less obvious because people don't look around and see others in a radically-different space. My friend's words called my up short, and made me wonder.
Freud's essay Mourning and Melancholia suggests that the big difference between the two is that, in mourning there is real grieving for something that has been lost, such as after the death of a loved one, but in melancholia, though the sadness is real, but it's not so clear what has actually been lost. That's part of the territory of depression.
19 October 2019 was a day of high drama in Parliament — in its first Saturday sitting since the Falklands invasion. The media has been awash with speculation and interpretation — often adding more heat then light. Perhaps that's justified, but I wonder if it was also a distraction from something much harder to name.
An un-nameable loss
I could point a finger at both the Conservative and Labour parties, suggesting that they've both lurched to extremes, leaving many of their traditional supporters with a sense of abandonment. I could point to the serious threat of Brexit, in both economic and cultural terms. But these have all been around for a while. They don't adequately explain the sadness now.
Continue reading "Repercussions of a sadness around Brexit"