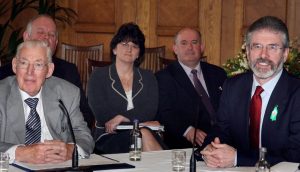 The Good Friday Agreement, signed on 10 April 1998, was a remarkable achievement. After an extended peace process, which had built up sufficient trust to make a breakthrough possible, it finally brought a way to share power between Protestants and Catholics in Northern Ireland, ending decades of armed conflict.
The problem was, and is, that there is legitimacy in the claims and the stories on both sides. Finding a route to the point when both communities can co-exist peacefully is the sanest way to peace. My reading of the story is that the fundamental change that made this possible was that the UK and Eire had both been in the EU for long enough for people to get used to it.
It is possible for communities to co-exist on a day-to-day basis, but the fundamental question which is hard to fudge is "on which side will you be if there is a war?" In other words, "Will you fight for Dublin or for London?". Peace is possible when there has been enough peace and stability for long enough to mean that question is not at the back of people's minds.