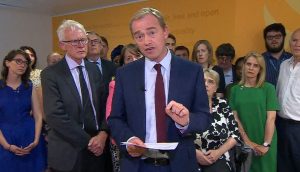 I've only met Tim Farron once, and am in no position to comment on his actual views on either of these things. I'd be surprised if someone became leader of the Liberal Democrats who was strongly opposed to either of them, but the perception that Tim is lukewarm on gay rights kept coming up in the 2017 General Election campaign. My sense is that it reached the point when there was nothing he could say that would lay this one to rest because denials were being heard as evidence that there was something to deny.
The Christianity bit
There are plenty of Christians who use their faith to legitimate anti-gay positions, and plenty who do the opposite. A particularly affirming moment in the 2015 campaign came when Adrian Hyyrylainen-Trett, LibDem Candidate in Vauxhall, gave an interview in which he spoke candidly of how he had come to be HIV+. It came across my radar when LibDem president Sal Brinton, Vice-Chair of Christians in Parliament, posted a link to it on Facebook, with an expression of her full support for him.
Continue reading "Tim Farron's resignation: it's not about religion"