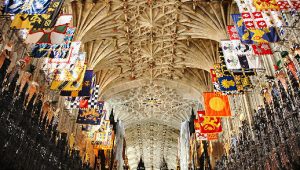 Cynics would note that this announcement eclipsed the news that the government had finally published the Brexit impact reports — but in a form so redacted as to deserve fierce criticism, and was attempting to restrict amendments to the Budget, with the implication that this is an attempt to rig parliament to avoid defeat.
I think the cynics are wrong. With the way the Brexit saga is unraveling, it's hard to imagine any day on which the announcement of a royal engagement would not have seemed like an attempt to distract attention from a piece of bad news.
Where it actually sends me is to Wilfred Bion's idea of "basic assumptions". His suggestion is that, under our more sophisticated functioning, there lies a layer of quite raw being, formed in early childhood, that tends to come to the surface at times of great anxiety or confusion, and shows itself in what we collectively end up doing, rather than rationally thinking. Bion identified three patterns: a raw fight/flight response, dependency on a leader, and focusing on a couple. The last of those isn't exactly about sex, but is closer to the comfort and security a small child might get from being with a couple: sex is there, unspoken and intuited in the background. Bion suggests this is one of the things we look for in the aristocracy. His point is well made in the excitement around this prospective royal wedding. As Harry is (at least) fifth in line to the throne, this isn't about watching a couple likely to become King and Queen. The astonishing level of interest is much more about what this particular wedding distracts us from.
Republicans will doubtless huff and puff at the prospect of a royal wedding, but this rather misses the point of the emotional need being expressed.
Dependency on feudal leaders has been the norm for much of human history. We're adapting to a different way of being and that isn't straightforward: arguably it is more just and more fair, but also more complex, and it's not so easy to work out what to do with the emotions that would once have been masked in loyalty to a feudal lord.
Today, doubtless, the stories of the forthcoming wedding will have a fairy-tale "prince and princess" feel. It's not that long since royal marriages were about political expediency. Tales of queens being encouraged to "lie back and think of England" are a reminder that there were nasty layers below the myth. Prince Harry's mother was deeply wounded in a different way by the pressures of contemporary monarchy.
A human need was met by having a simple social structure built round loyalty to monarchs — even though that included the brutality of mediæval warfare. It made for a relatively simple world which must have seemed more-or-less comprehensible.
Today, no-one expects a monarch to don armour and lead their troops into battle. The fairytale orince and princess might give some hint of the seeming-stability of those days in the face of the enormous complexity of modern life. Contemporary warfare is far too destructive to be contemplated as a means of diplomacy. One of the tragedies of the Brexit debate is that the EU offers a credible and consensual alternative to the violence of the past, but it takes us into new territory, needing new — and more civilised — ways of being. Cheering when a prince gets married is no big deal, and might bring a temporary escape from the anxieties of where we now are. But a nostalgic flight to the past is highly dangerous, because that past was pretty grim. Fusing its mindset with modern technology appreciably worse.
My friend was right. Our media should be resisting the escape to fantasy offered by the prospect of a royal wedding and actually giving some well-informed comment on how the EU works, so that we can explore it as part of twenty first-century reality, rather than through the folklore around a glorious past that never was.