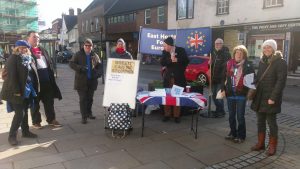 In the referendum campaign, I was focussed on Cambridge, but friends in Hertford and Stortford talk of street stalls getting significant opposition. The case for Europe was worth making and clearly needed to be made. The constituency was the closest in the country to 50:50.
Now the feel is different. It's unwise to draw any conclusions from those who didn't want to stop and talk, but conversations today were rich. Some shed light on people's real worries over Brexit, and others on their attachment to it.
Messages of support for Remain
There were people who stopped to thank us for being visible. There were stories of people feeling gutted by the result and of people from elsewhere in the EU feeling unwelcome since the referendum.
At the end of a week in which has seen Conservatives Owen Paterson and Daniel Hannan, and Labour's Kate Hoey question the future of the Good Friday agreement, and the Irish Foreign Minister spring to its defence, several Irish people expressed real concern at it's possible unravelling. People in Ireland who remember the Troubles are painfully aware of the significance of a hard border, with customs and checkpoints — if the UK leaves the Customs Union those things will be needed, and inflame sensitivities on both sides. Peace was possible because the UK and Eire were both in the EU: it can't be taken for granted.
There were people worried about travelling in the EU, and in particular about children and grandchildren in families where people have married across European borders and had thought their futures were secure thanks to the EU.
There were stories of pharmaceutical companies — large employers in the area — delaying investment until there is clarity on Brexit. The delay is hurting jobs and prosperity now. The brutal reality is that these are multi-national companies whose decisions to invest in the UK are being re-thought because a UK outside the EU is a much less attractive prospect, especially if we also crash out of the Single Market.
One person spoke of voting Remain, but now, with palpable sadness, feeling we should get on with it "even though it will be bad". She hadn't realised that the Article 50 notice can be withdrawn, and the wounds of the saga can be addressed.
In an area with a strong Tory vote, there was sadness and a sense of abandonment from pro-EU Tories, some openly shocked that the local Tory MP, Mark Prisk, having campaigned for us to remain in the EU, seems to have had a change of heart. In a sense, he is following his party's manifesto, but, where the pro-Brexit Tories could be accused of not understanding the consequences of Brexit, he and the other "quiet Remainers" on the Tory benches, are letting their constituents down by standing by as the predicted problems come to pass.
From the Brexit side
Few people were expressing support for Brexit, but some of those who did, expressed it loudly.
There were people for whom "we won two world wars and shouldn't give in now" — recycling memories of the war, and forgetting the horrors which led people to say "never again" — and Winston Churchill to talk of a "United States of Europe" as an alternative to war.
There were people worried that the NHS can't cope with immigration — overlooking the staffing shortages being created by people from the rest of the EU being less willing to come to work in the UK since the referendu.
There were people worried about being "dictated to by the EU", without realising how far we will be dictated to by the USA and China if we try to negotiate separate trade deals — without the EU behind us, trade deals with major powers are likely to be of the form "they draft, we sign".
Sadly, there was one person who was angry because "Europe gave us nothing" in David Cameron's "renegotiation" — clearly unaware of the Balance of Competences review which had said it was against the national interest to seek any significant changes (so the "re-negotiation" was the EU trying to make it look as if Cameron had achieved something, without doing any real damage to the UK or the rest of the EU).
I'm left wondering about the small minority of people expressing very vocal support of Brexit. Perhaps the same people would have said the same things a year ago, but I also wonder whether this is the surprise, anger and sense of betrayal from people who genuinely thought that Brexit offered a bright new future, and now watch the vision fade. I fear they are caught between people like me — naming some uncomfortable realities — and the Brexit-supporting politicians, repeating promises that look optimistic, with the whisker of suspicion that they might stick to their guns, even as those who voted for Brexit find themselves being harmed by it.
A referendum on the terms
We collected 161 signatures on a petition calling for a referendum on the terms of Brexit, trusting that this adds to the pressure. A referendum on the terms is Liberal Democrat policy, but it needs wider support to turn into reality.
One of the Irish people who stopped spoke of Eire's two referenda on the Nice Treaty. His point was that many of those who voted against it the first time, were votoing as a protest and didn't expect their side to win. He saw their two votes as a chance to register protest, and then a chance to have the real vote, and suspected the same would happen here.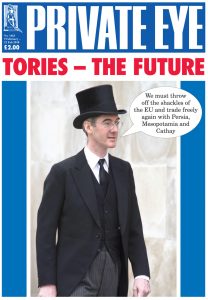 But the overwhelming point was that people voted without knowing what Brexit would actually mean. Nearly a year after the triggering of Article 50, it is still unclear. It might be undemocratic to keep voting until the answer is "yes", but the "Leave" option was so ill-defined that it would be even more undemocratic to assume that those who vote Leave in 2016 will think that what is on the table in 2019 is actually what they vote for.
I felt particularly sorry for someone who voted Remain, was distressed by the result, but now, in the swirling chaos of media stories about what Brexit may or may not mean, feels too bewildered to know what to think. Normally governments are there to produce wise government out of the chaos of reality, not to create paralysis by stirring up the chaos.
The Liberal Democrat angle
Brexit is bigger than any one party. I am proud that Hertford and Stortford Liberal Democrats were out in force, but glad that others are involved in East Herts for Europe, so that this is a cross-party grouping to do what is in the national interest.