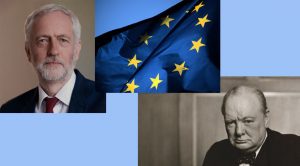 In the foreground was the media storm which ended with Jeremy Corbyn winning an apology and payout from Tory MP Ben Bradley over his "Wholly untrue communist spy tweet".
Andrew Neil's brilliant interview with Steve Baker MP, demonstrates the ridiculousness of the allegations.
This is so absurd that the question it raises is "Why on earth did anyone believe it?"
In the middle of the storm, one comment caught my ear — Jeremy Corbyn saying that he had spoken with Czech diplomats because he wanted to hear both sides in the Cold War. An individual backbench MP won't have had a huge effect, but advocating peace rather than war, and talking with the other side rather than demonising them, sounds like the conduct of a wise statesman.
So, why has this story blown up now? There is a political answer, and a below-the-surface one.
Continue reading "False allegations against Jeremy Corbyn: chaos as things shift on Brexit"