Concern over migration is shaping up to be a EU-wide issue — it is frustrating that it is an issue in the referendum debate as if this is not something we share with our EU partners.
Last weekend's elections in Germany have sent shockwaves because of the progress of the right-wing, anti-immigrant Alternative für Deutschland (AfD). Writing in The Guardian, Philip Oltermann also points out the success of some pro-refugee candidates as an illustration of the increasingly complex and fractured nature of the argument.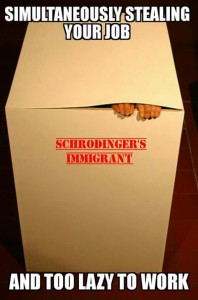 It sounds very familiar: in the UK the proponents of Brexit are pushing an anti-immigration case to "take back control of our borders" while Liberal Democrats are tending to point out the value of immigrants. In narrowly-financial terms, the awkward reality is that immigrants to the UK contribute substantially more in taxes than they take out of the system in benefits. Even the argument to restrict benefits to new arrivals is questionable: if someone comes to the UK, claims benefits while they settle, starts earning and starts paying tax and more-than pays back what they received, then the "benefit" payments look like a prudent investment. The idea's been pithily summed up in the idea of Schrödinger's immigrant: simultaneously stealing our jobs and too lazy to work.