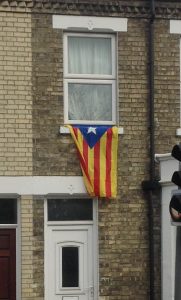 In the distant past, this is something that would have been settled on the field of battle. Spain would seek to put down the province declaring independence, and Catalonia would have resisted.
In the twenty-first century, there's reasonable hope that this won't end in bloodshed. There's a vestige in that older way of thinking in the speed with which Spain suspended Catalan autonomy, calling fresh elections, and the threats to arrest the (now ousted) Catalan leader Carles Puigdemont. From the outside, it feels like a game of double bluff, but one in which every twist tears at the self-understanding of the many who see themselves as both Catalan and Spanish, making it harder to find a negotiated solution.
In a dis-spiriting parallel with Brexit, the near-impossibility of establishing an independent state seem not to impinge on the desire for it (countries can only join the EU with the agreement of all existing members, and Spain would be likely to veto membership). The sense is of poorly and partially articulated grievances leading to actions that make things much worse.
For the EU this presents a dilemma. Donald Tusk quickly came out with a statement saying that, the declaration changes nothing, and the EU will deal only with Madrid. In one sense he has no choice: for the time being this is an internal matter for a member state. In the short term, that would come under pressure only if Spain cracks down on Catalonia in a way that calls into question its commitment to the basic ideals of the Union. That's possible, and there was pressure for action on that basis against Hungary in May 2017, but the hope is that things won't get that bad.
But the other side of the EU's dilemma is that this does change everything.