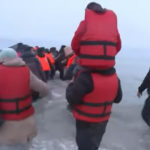 First there was a story that Dominic Raab had confirmed that the government is exploring ways of processing asylum seekers abroad, with ministers thinking of flying migrants to processing centres within seven days of arriving in the UK. There was a rumour, hotly-denied by the Albanian government, that people would be held in their country.
Then there was news of the Home Office covering up its own report on why migrants come to the UK because the actual evidence didn't fit with a government narrative about there being a "pull factor" bringing people particularly to the UK.

Then 27 people drowned in the English Channel when their inflatable boat sank, with evidence of 47,000 attempted Channel crossings to the UK took place this year and 7,800 migrants rescued.
Too many media sources for comfort spoke of these people as "migrants" and my social media feed had an alarming number of comments saying they shouldn't have tried to come — or been allowed to try to come — to the UK.
Then there was a letter from Boris Johnson to Emmanuel Macron, including a repeat of an unreasonable suggestion, already rejected by France, that people who succeed in crossing the Channel be returned to France.
If that letter had been meant to help, it would have been sent in private. Leaking it to the press and on twitter was highly inflamatory. The upshot was the retraction of an invitation to Priti Patel to meet with her counterparts from France, Belgium, the Netherlands, and Germany.
Then there was a false claim from Sajid Javid that the UK has taken more migrants than any country in Europe, rapidly dismissed by Channel 4's factcheck.
Then a group of Hastings fishermen tried to block lifeboat setting out to rescue more people trying to cross the Channel.
November closed with a sign being erected on a bridge in South London saying "Exit the 1951 Refugee Convention now it's OK to preserve white nations". That was reported on twitter by someone apparently sympathetic to it, who also posted a video showing the police removing the banner with commendable speed. (In brackets, in case that tweet or account is removed, here is a link to the image that had been uploaded).
So far, so shameful. If the Home Office's own report shows that there isn't a "pull factor" to the UK, and Sajid Javid is giving wildly misleading figures, the impression is of a government whipping up xenophobia. When a lifeboat launches it is because people are in peril on the sea. To not launch would be to be prepared to let them drown.
People are regularly risking their lives to cross the Channel. Basic human decency says they should be rescued. We do need to be fair in processing the applications of people who want to migrate to the UK — but "fair" is not the same as creating a "hostile environment" and a very long way from failing to honour obligations to refugees.
It's hard not to read Boris Johnson's decision to publish his letter as a deliberate act of provocation. If he were trying to solve the problem there would have been urgent talks behind closed doors (which would have been much easier if we were still in the EU). As it is, he has a story to shore-up support among right wing. A case of bashing Europe to hang on to power.
None of this is about dealing with real threats — such as acting with other countries to see what can be done to avoid people needing to become refugees in the first place.
Among the many tragedies of this is that the UK is enriched by people from abroad who have chosen to make their life here. Our rich cultural diversity isn't a threat to anyone. But whipping up xenophobia is.
And people are dying as they try to cross the Channel. Turning a blind eye is to be complicit. There are people smugglers who should be facing (at least) manslaughter charges. That Factcheck piece shows that other European nations are taking more people than we are.
A sad irony is that the same twitter feed (@BrianPatriots) that reported the banner on the bridge in South London also had a post asserting that Covid vaccination would cause people to start to believe that climate change is real… Unless something drastic happens to address climate change there will be huge pressure for people to migrate from parts of the world that become uninhabitable.
It seems that Brexit has unleashed some nasty xenophobic forces in the UK. A wise government would be working hard to defuse that. We seem to have a government that's doing the opposite in order to hang on to power.