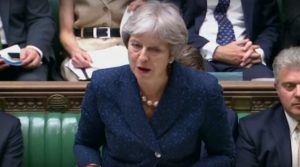 On Sunday 8 July I offered something to Liberal Democrat Voice suggesting that it's time to switch the language on Brexit into an explicit attack on "Tory Brexit". The resignations of David Davis and Boris Johnson took that a great deal further, and left me wondering what further resignations would happen before it was read on Liberal Democrat Voice, and whether we will be in another Tory leadership contest, or hurtling into a General Election.
There's been forceful posturing about "getting a good deal" and "how these negotiations work" and "abandonment of Brexit". On the other side of the Commons, Jeremy Corbyn quipped that May's Brexit deal took "two years to form and two days to unravel".

In among the noise and the drama, Sophie in 't Veld the Dutch D66 / ALDE MEP was interviewed on the Today programme on 9 July, saying that Brexit is about damage limitation — she expressed regret that it is happening, but the priority is to limit damage on both sides from what I'm bound to call the UK's monumental act of self harm. Nothing there about "good deals" or "punishment" or "status", just a wise leader acting wisely. At least there are people in the European Parliament who are looking out for our interests.
Prior to that weekend, I had been hearing whispers from Labour about "Tory Brexit", with the implication that it's time to shift the rhetoric. Labour has had to move gradually in order to not lose faith with those Labour supporters who voted Leave. It's been difficult to talk about lies from the Leave campaign without seeming to accuse people of being gullible.
The temperature had already been changing, with mounting evidence that the Leave campaign broke electoral law (likely to lead to action from the Electoral Commission) and cynically lied, preying on people's fears, rather than helping to enable the sort of engage that would have enabled people to make an informed decision. The snag is that those things are as likely to contribute to cynicism about politics as they to pressure for a meaningful People's Vote on Brexit.
Support for Brexit has seemed to be a mix of people holding fantasies of Britain's questionably-glorious Imperial past, and the financially-excluded expressing real pain. It's increasingly sounding like the privileged duping those who have already lost out.
Vocal support for Brexit is now the domain of the Tory right wing. Not the natural voice of the left-behind.
I suspect we will find out rather soon whether the resignations of David Davis and Boris Johnson are driven by principle, or self-interested preparations for a leadership challenge.
The rumour mill is also suggesting that Theresa May edging towards putting country ahead of party — arguing that her proposals are the best option on Brexit for the UK. From where I stand, they show that there is no Brexit deal that is as good as full EU membership. But what we are now seeing is the Tory right wing showing its true colours. These are the people driving Brexit now, and whose lies in the Leave campaign were most outrageous, because they came from people who had some claim to be political leaders.
Its tempting to get sucked into the Tory soap opera. It's actually time to heed the words of Sophie in 't Veld and limit the damage from the Tory fantasies. It's time to attack Tory Brexit — in the full knowledge that the choice is between Tory Brexit and no Brexit.
And the probability of a 2018 General Election has gone up. The country needs Liberal Democrats and Labour both to oppose the disastrous consequences of Tory Brexit.