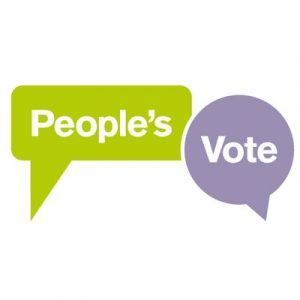 Dunkerton's donation is a major boost for The People's Vote.
He said: "I will be paying for one of the most detailed polling exercises ever undertaken by a campaign so that more and more people have the confidence to demand the democratic right for their voice to be heard."
In what now feels an almost-inevitable response, the Conservative MP Andrew Bridgen claimed, that the People's Vote campaign is not about democracy, and is instead an attempt to overturn the referendum.
A couple of things leap out from this.
One is that the sum is more than the expenditure limits for the 2016 referendum, but as we are well away from a referendum campaign, there's no sense of bending the law. Rumours have been flying around about possible pre-campaign spending by key supporters of Leave, but this is sounding doubly-careful because it is seeking to get nuanced information on what people actually think, rather than to run a campaign.
Inevitably the referendum itself lacked this subtlety. It offered a simple binary choice. It's since become excruciatingly clear that no-one knew what a Leave vote would mean — the vote has been taken to mean in or out of the EU, the Single Market, the Customs Union, an anxiety over immigration, over sovereignty, over human rights — and many other things. Responsible government does need to engage with why people voted as they did, and not just how they voted, and this research might at last shed light on that.
On top of that, the story is now very different. I've had a surprising number of conversations with Conservative voters disillusioned over their party's handling of Brexit in recent months. We do need to know a great deal more about what people think, and what would be a politically-acceptable scenario after 29 March 2019. We can also expect that to change as the harsh economic realities become more clear, and as these are sharpened by more information from the government to help people prepare for a possible "no deal" Brexit.
So… why do Bridgen and his fellow Brexiteers object? Was the "will of the people" a once-and-forever decision on 23 June 2016? I've heard Bridgen himself (correctly) say no parliament can bind a future parliament: can't the people also change their mind as new information becomes available? Surely that is all the more forceful not it is clear that many of the things promised by the Leave campaign were fantasies?
The brutal answer has to be "yes", except for the Tory right wing, with a fanatical commitment to Brexit at any cost: especially as many of them have the personal wealth to be protected from its consequences.